Cloud
PBX
All the features of a Business Phone System without the hassle. With SystemNet's Cloud PBX, there's no on-site equipment to update, maintain or worry about, and it's easy to set up.
Powered by Panasonic IP Network Communication Servers, providing a feature rich, easy to use, reliable platform with high quality audio. Ideal for new start-ups, small to medium size businesses and multi-site operations.

Cloud PBX
Benefits
Low Cost Setup – Just purchase IP phones, setup a Cloud PBX plan with SystemNet and you're good to go. (Internet access required)
Quick to setup and easy to expand – Phones can be sent out pre-configured for you to install yourself, or we can call out and install them for you. Our installation rate is €55 per hour.
Pay per phone per month – Our Cloud PBX service costs €15 per phone per month for the first 4 phones, and €7.50 per month for each additional phone.
Unlimited landline calls included* – All our Cloud PBX Plans include Unlimited landline calls to Ireland, UK, USA and most other international destinations, and low cost mobile call rates. Mobile call bundles available.
Get a new phone number or keep your own – New phone numbers available for all area codes in Ireland. Existing numbers can be ported.
Full range of Panasonic IP phones available in both black and white – Choose from a wide range of IP Phones from Panasonic. From the 8-Key Backlit-Display phone (KX-NT551), suitable for most standard users, to the 24-key large-Backlit-Display phones ideal for receptionists, supervisors and executives.
* Unlimited calls are subject to our fair usage policy. All prices exclude VAT. T&C Apply.
Features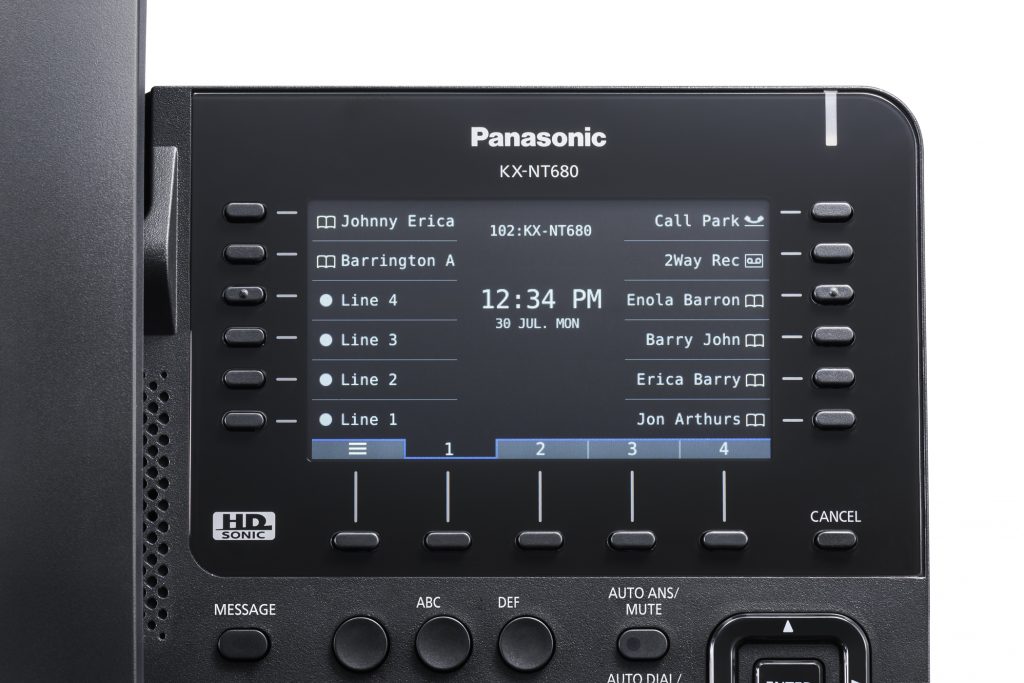 Busy Lamp Field (BLF) is a feature which allows you to see the status of other phones in your organisation. See who's on a call at a glance.
BLF keys also allow you to call other extensions and transfer calls with a single touch of a button.
Voicemail is provided for all extensions. In addition, group mailboxes can be setup for extension groups like sales, support, accounts, etc., and a main company mailbox, ensuring your customers get through to you every time.
The Message Waiting Lamp on your phone will light to notify you of new messages.

Voicemail to Email is a feature which integrates your voicemail and email. When a new voicemail message arrives in your mailbox, the system sends you an email with the details of the message, and the voice message itself is attached as a .WAV file.
Up to 3 email addresses can be linked to each mailbox.
Auto Attendant allows you to have a virtual receptionist. It can answer all incoming calls, or it can play a supporting roll to a live receptionist. When Auto Attendant answers a call, the caller will hear your company greeting and a menu of options.
Example:
"Thank you for calling SystemNet. For sales press 1, for customer support press 2, for accounts press 3, and for all other enquiries press 0."
Each menu option can be configured to ring a single extension, a group of extensions, a mailbox, or even an external number.
If you receive a large volume of incoming calls, or don't want your calls going to voicemail during business hours, We can setup Call Queuing for you which will place incoming calls in a queue until there is someone available to answer them.
Callers will hear your company greeting and informed that their call has been placed in a queue. They will then hear Music On Hold while they wait, with periodic updates on their position in the queue and how much longer they have to wait until answered.
Call Hunting
Call Transfer
Call Forward
Ring Groups
Music On Hold
Extension Directory
Company Directory
Call Pickup
Headset Mode
Call Park
Multi-Party Conference
Paging
Busy Lamp Field (BLF)
LED Indication
Call Log
Voicemail
Message Waiting Lamp
Auto Attendant
Caller ID with Name
One-Touch Dialling
Call Queuing
Voicemail to Email
Call Waiting
Mobile Integration
Call-Centre Features
Log in/Out of Groups
Unified Messaging
Night Mode